25 June 2012 (HCS) – Hoover school officials announce the "Engaged Learning Initiative" – a technology pilot program scheduled to launch during the 2012-2013 school year which will provide students and teachers with digital learning devices.
In September of this year, Nooks will be distributed to students in select elementary and middle school classrooms; iPads will go to seniors at both Hoover and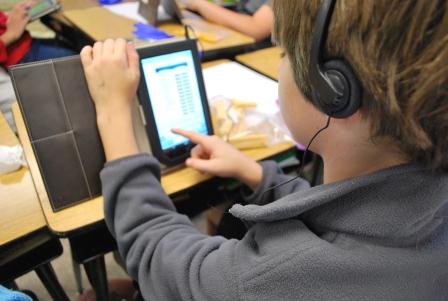 Spain Park high schools. The project is an expansion of a small pilot project which took place during the 2011-2012 school year at Gwin and Green Valley elementary schools. The devices will be property of Hoover City Schools and will be assigned to students. If all goes well, plans call for the initiative to eventually provide each student in grades 3-12 a Nook™ or iPad™ by the 2013-2014 school year.
Designed to enrich the learning experience for students, the Enhanced Learning Initiative will allow students to use web-based research and apps (applications) to problem solve, do homework and carry out general study in and out of the classroom. The devices will further individualize and differentiate instruction, allowing students to learn at their own paces and in different ways. In many respects, the devices will begin to take a lead role in terms of tasks traditionally accomplished through workbooks and textbooks.
During the summer months, teachers involved in phase one of this pilot program are undergoing professional development training to learn more about the rollout of the Engaged Learning Initiative.
See media coverage: The Birmingham News; Shelby County Reporter; FOX 6